I'd like to make use of Move and Resize windows a lot. So I include them in most of my shortcuts.
They work maybe ~60% of the time on the first try, but always work to some degree, and always work completely if I run them enough times. So now all my shortcuts have
-Move and resize
-Wait 3 seconds
-Move and resize (again)
-Wait 3 seconds
-Move and resize (again)
I typically use the built-in "Right / Left Column" like this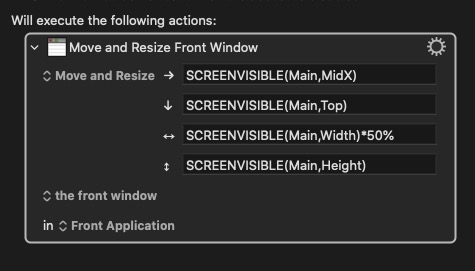 Occasionally I'll create one like this: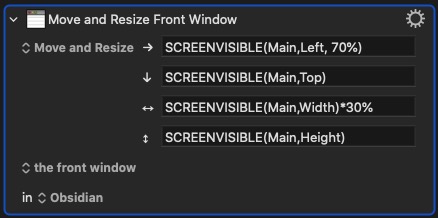 The moving and resizing happen independently, often taking ~3 tries.
Run once - window resizes
Run again - window moves
Run again - window resizes
Then I restart the target app and it works on the first run.
I know about the importance of building in pauses.
it's not app specific, it fails sometimes with every app.
I wonder if it has to do with the fact that I am screen mirroring from my laptop? I use an external display and keep the other one fully dimmed (because clamshell kills TrueTone)
I might be imagining this, but apps that seem to tax the windowserver process are perhaps more likely to require multiple runs. Calendar, for example, I don't remember ever failing. But when I have 3 omnifocus windows + obsidian rendering dataviews + safari all floating around, those apps are less likely to snap-to on the first time.
Any help appreciate, thank you!