I have a simple macro that toggles Do Not Disturb off, pauses 3 minutes, and then turns Do Not Disturb back on. It doesn't work in Mojave.
I often like to turn off Do Not Disturb. The problem is, I'll forget to turn it back on. I created this macro to solve the problem. (F4 is the keystroke set in my System Preferences > Keyboard > Shortcuts to toggle Do Not Disturb. Simply typing F4 still works as expected.)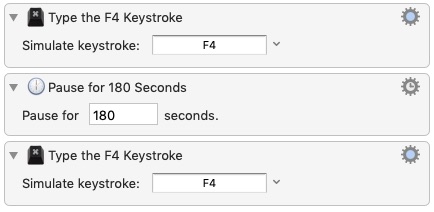 This has not worked since I upgraded to Mohave. It doesn't matter whether I trigger it with its keystroke or with the status menu. I have Keyboard Maestro set up in Accessibility and all of the other macros I've tested since installing Mohave work.
As a test, I created a new macro with the same first action and no other actions to find out if that would toggle Do Not Disturb. Even that didn't work.
Any ideas?