MACRO:   [WEB] Click on Link Using XPath [Example]
~~~ VER: 2.0    2016-10-12 ~~~
DOWNLOAD:
[WEB] Click on Link Using XPath [Example].kmmacros (11 KB)
Video Demo
See the below post for an example.
---
ReleaseNotes
Author.@JMichaelTX
PURPOSE:
Click on the Hyperlink Identified by the XPath
Requires either Safari or Google Chrome
MACRO SETUP
This method will work in both Safari and Chrome.
GET THE XPATH
We only need to use Chrome to get the XPath:
(Safari does not have the XPath tool)
Open your web page in Chrome (just one time)
Right-click on the link of interest, and select "Inspect"
This will open the Chrome Developer tool, showing the HTML for the link
Right-click on the HTML for the link, and select "Copy > Copy Xpath"
We are now done with Chrome. You can close it.
In the below Action, "Set KM xPath Variable",
Paste in the text block -- this is the xpath. It should look someting like this:
//*[@id="ctl00_MainContent_ucEStatements_dlStatements_ctl00_lbStatementDate"]
POSSIBLE ISSUES WITH XPATH
The "id" used may be dynamically created, and vary within the page, and in similar pages from the same web site. In this case, it may be not be reliable.
If the HTML Element of interest does not have an "id" attribute, the XPath with be a relative path from the nearest element above that does have an "id".
If the structure of the web page changes, this path could be broken, causing the XPath to fail.
REF:
USING THE MACRO:
Make sure you have completed the above Setup
Open your Browser to the page of interest
Trigger this macro
TAGS: @XPath @Link @Chrome @Safari @JavaScript @Web @Browser
USER SETTINGS:
Any Action in magenta color is designed to be changed by end-user
ACTION COLOR CODES
To facilitate the reading, customizing, and maintenance of this macro,
key Actions are colored as follows:
GREEN -- Key Comments designed to highlight main sections of macro
MAGENTA -- Actions designed to be customized by user
YELLOW -- Primary Actions (usually the main purpose of the macro)
ORANGE -- Actions that permanently destroy Varibles or Clipboards
REQUIRES:
(1) Keyboard Maestro Ver 7.2.1+
(2) Yosemite (10.10.5)+
(3) Either Safari or Google Chrome
---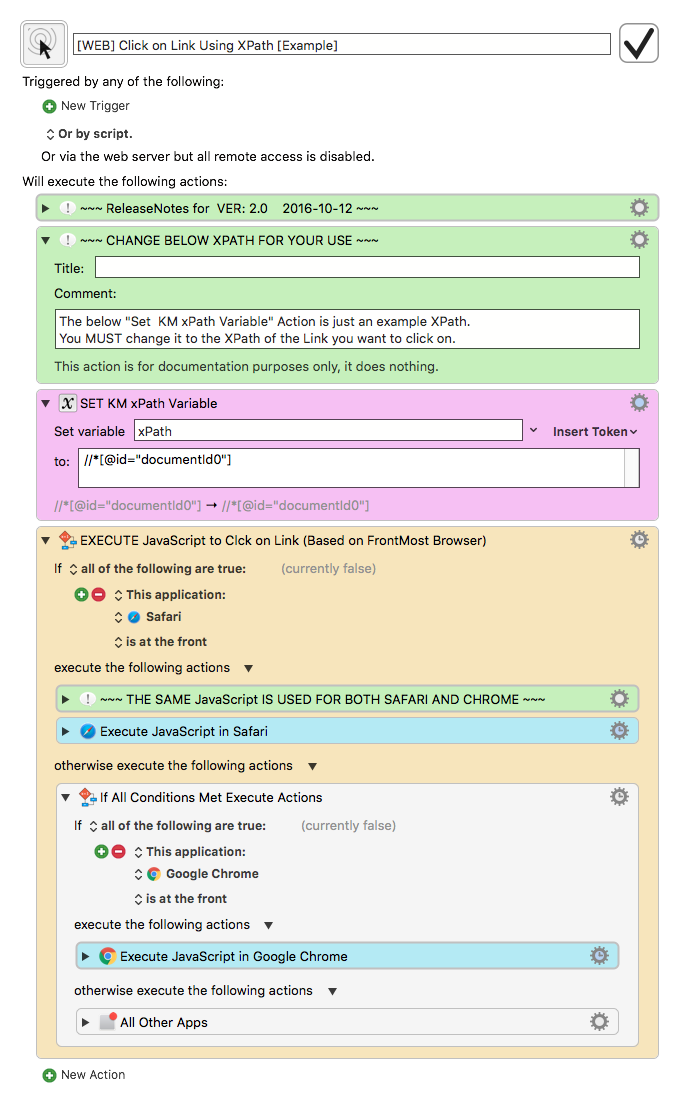 ---
JavaScript Used in Macro
(function run (pXPathStr) {
  'use strict';

var ptyScriptName   = "Click on Link Identified by XPath"
var ptyScriptVer     = "2.0"
var ptyScriptDate   = "2016-10-12"
var ptyScriptAuthor = "@JMichaelTX"
/*
~~~~~~~~~~~~~~~~~~~~~~~~~~~~~~~~~~~~~~~~~~~~~~~~~~~~~~~~~~~~~~~~~~~~~~~~~~~
PURPOSE:  Click on the Hyperlink Identified by the XPath provided by KM

RETURNS:  One of these, as text:
  • "OK" -- if successful, no errors
    
  • "[ERROR]" at start of results if a script error occurred.
  
KM VARIABALES REQUIRED:
  • xPath    -- the full XPath to the Link
  
    EXAMPLE XPATH:
    //*[@id="ctl00_MainContent_ucEStatements_dlStatements_ctl00_lbStatementDate"]

KM VARIABLES SET:
  • NONE
  
REF:
  • [Introduction to using XPath in JavaScript](https://developer.mozilla.org/en-US/docs/Introduction_to_using_XPath_in_JavaScript)
~~~~~~~~~~~~~~~~~~~~~~~~~~~~~~~~~~~~~~~~~~~~~~~~~~~~~~~~~~~~~~~~~~~~~~~~~~~
*/
  //--- GET THE XPATH FROM KM ---
  var xPathStr = document.kmvar.xPath;
  
  var returnResults = "TBD";
  
  //--- GET THE HTML ELEMENT IDENTIFIED BY THE XPATH ---
  var elemFound =  document.evaluate(
      xPathStr, document, null, 0, null
    ).iterateNext();
    
  if (elemFound) {
    //--- CLICK ON THE LINK ---
    elemFound.click();
    returnResults = "OK";
  }
  else {
    //--- ERROR:  ELEMENT WAS NOT FOUND ---
    returnResults = '[ERROR] Element NOT FOUND for XPath:\n' + xPathStr;
    alert(returnResults);
  }
  
  return returnResults;

})();