A single keystroke (I happen to use ⌘⌥M) to copy selected items as Markdown links from a variety of browsers and other applications.
This is a working draft of a group containing a main macro and a number of supporting sub-macros:
A main macro defining a single keystroke for use in a variety of different applications: Copy as Markdown link
various sub-macros (not stand-alone - they are called by the main one) with the bundle identifier names of specific apps.
The main macro:
can get MD links, unassisted, from some browsers and from applications in which the front document is simply a file
can also, for use with other applications, look up the Bundle identifier (e.g. com.apple.finder) and use any supporting sub-macro in the group which has that name.
If, for example, you need to Copy as MD Link in Panic's Transmit.app, the main macro will:
call the com.panic.transmit.mas sub-macro if you are running the App Store build of Transmit
call the com.panic.Transmit sub-macro is you are running a copy bought directly from Panic.
On the range of applications supported:
If the main macro doesn't immediately work with an application that you need, you may be able to ask me to see if I can write an additional app-specific sub-macro, or write one yourself.
Two requirements:
The name of the sub-macro should exactly match that of the application's bundle id
The sub-macro should just place one or more markdown links for the selected item(s) in a KM variable named mdLink
And one installation step:
Once you have added a new sub-macro to the MD Link tools group, you need to register it by running, just once, a special macro which is included in that group, called: Update map from bundleIDs to KM UUIDs (after new sub-macro added)
If there are any sub-macros here named after the bundle-ids of applications which you never use, you can simply disable or delete them.
The current version of this macro can be downloaded from a Github repository:
RobTrew/copy-as-md-link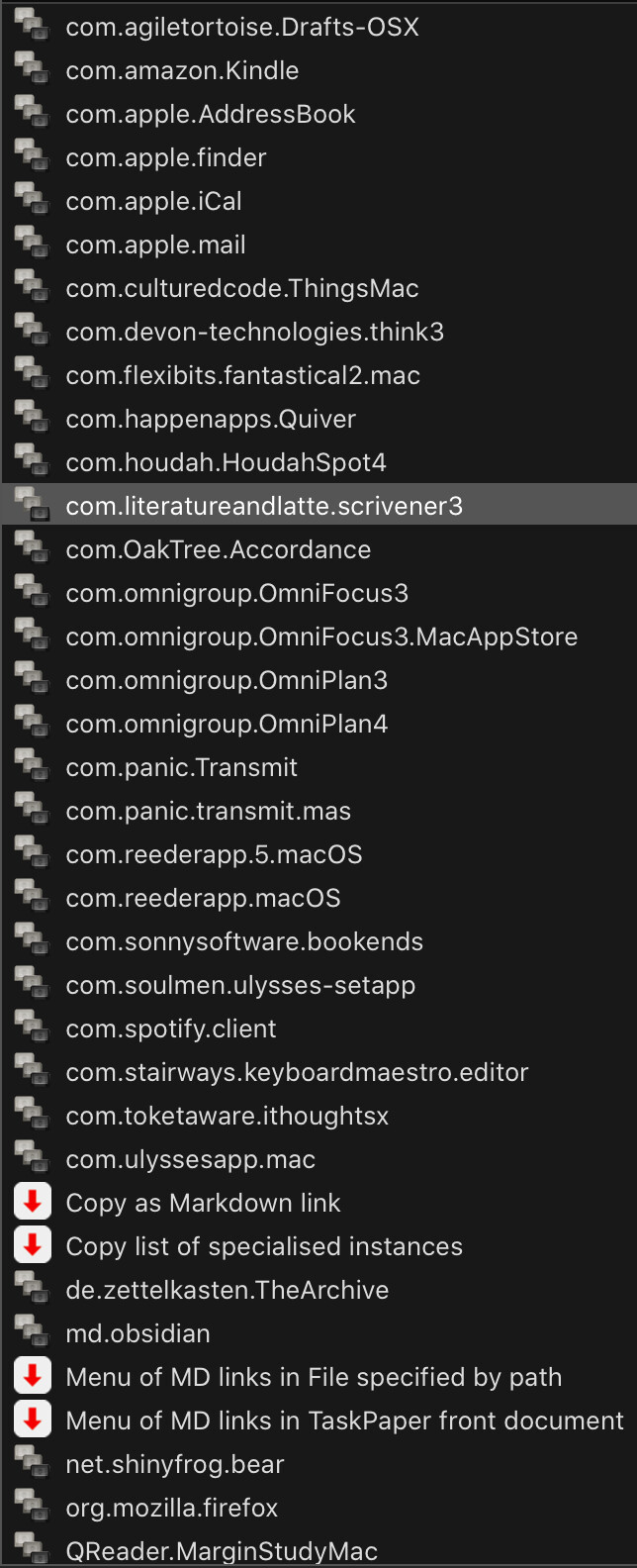 Full current list of sub-macros (extending the main macro to cover apps other than browsers, and app windows other than simple document windows):
app.soulver.mac
com.agiletortoise.Drafts-OSX
com.amazon.Kindle
com.apple.AddressBook
com.apple.finder
com.apple.iCal
com.apple.mail
com.culturedcode.ThingsMac
com.devon-technologies.think3
com.flexibits.fantastical2.mac
com.happenapps.Quiver
com.houdah.HoudahSpot-setapp
com.houdah.HoudahSpot4
com.literatureandlatte.scrivener3
com.lukilabs.lukiapp
com.multimarkdown.nvUltra
com.OakTree.Accordance
com.omnigroup.OmniFocus3
com.omnigroup.OmniFocus3.MacAppStore
com.omnigroup.OmniPlan3
com.omnigroup.OmniPlan4
com.panic.Nova
com.panic.Transmit
com.panic.transmit.mas
com.reederapp.5.macOS
com.reederapp.macOS
com.sonnysoftware.bookends
com.sonnysoftware.bookends2
com.soulmen.ulysses-setapp
com.spotify.client
com.stairways.keyboardmaestro.editor
com.toketaware.ithoughtsx
com.ulyssesapp.mac
de.zettelkasten.TheArchive
md.obsidian
net.shinyfrog.bear
org.mozilla.firefox
QReader.MarginStudyMac