Hey Folks,
I have a bunch of keyboard shortcut driven AppleScripts for opening various folders in the Finder. Too many in fact – I'm running out of viable keyboard shortcuts.
So I created a macro that uses a Prompt With List action with a list of folder paths as its source.
This is easy to customize and relieves my memory of the burden of remembering more keyboard shortcuts.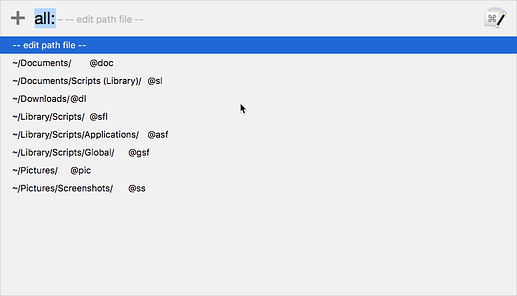 It supports tags using the format: @YourTagNameOne, @YourTagNameTwo...
If the path source file does not exist, it will be created with a starter group of paths and tags.
Select '-- edit path file --' to open it in your default text editor.
I have a similar macro for moving files/folders that I created years ago.
-Chris
---
Open a Folder in the Finder Specifed with a List Prompt.kmmacros (12 KB)