Spotlight is a powerful search tool, but it is sometimes difficult to remember the syntax to better define, or better limit, your search. This macro makes it easy to quickly build a more complex search when you need it.
Here's a screenshot of the Spotlight Input Form: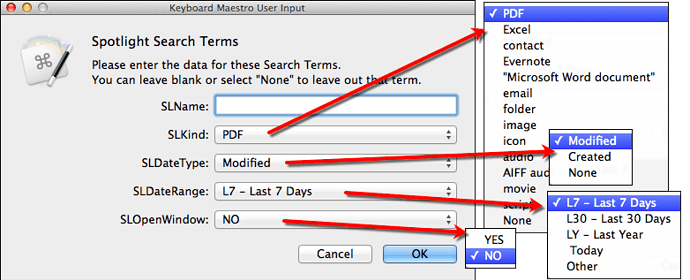 ---

2018-02-28 10:38 GMT-0600
MACRO:   
@SL

Mac Spotlight Std Search

~~~ VER: 2.0    2018-02-28 ~~~
• Rewrote sections to use Switch statement
• Other optimizations
DOWNLOAD:
@SL Mac Spotlight Std Search.kmmacros (77 KB)
Note: This Macro was uploaded in a DISABLED state. You must enable before it can be triggered.
---
ReleaseNotes
Author: @JMichaelTX
PURPOSE: Provide a easy-to-use, flexible input to Spotlight Search
HOW TO USE:
(1) Press the HotKey from any app to activate
(2) Enter the Search Terms (defaults to last execution)
(3) Adjust, if needed, in the Spotlight box
WHAT IT DOES:
(1) Prompts the user for 3 Spotlight search terms:
• Name -- text in the name of the file
• Date
• Created or Modified
• Pre-define date ranges (Today, Last 7 days, Last 30 days, Last Year)
• Optional Custom range
• Kind -- The file kind or type (like PDF, Excel, Word, Folder, etc)
(2) Builds the Search terms from user input, opens Spotlight box or Finder Window, and pastes in the search text.
INSTALLATION/SETUP:
(1) Set the SLOpenInFinder variable to open in either Spotlight box or Finder window
---