---
Please see Textcavator 2021 for the most recent version.
---
Textcavator
This macro prompts for a search string with an option to ignore case to explore a top directory and any enclosing directories for specific file types. Those include files with these extensions: txt, htm, html, php, indd, qxp, rtf, pl. You can safely extend this list.
The reason I wrote it, though, was to have a nicely formatted report that shows the hits in context so I can tell without opening the file what was discussed.
And Textcavator does that.
Here's a screenshot of the initial prompt.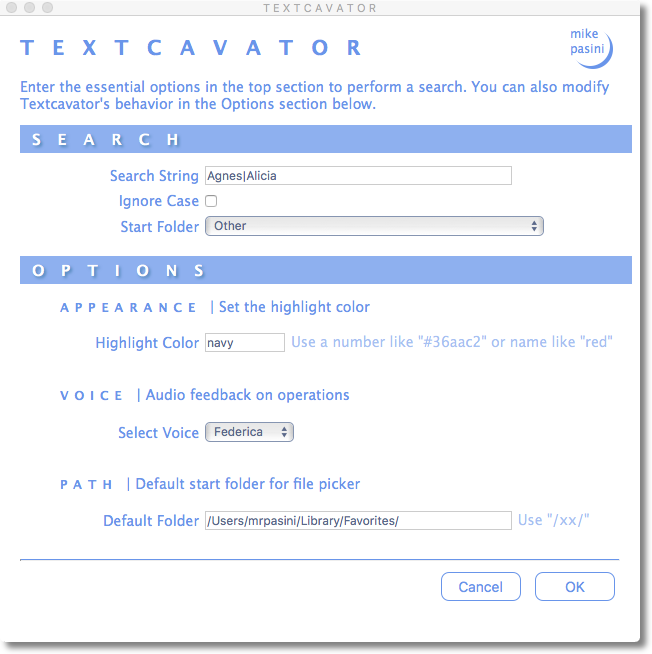 As you can see, there are a few options, too. You can set the highlight color pointing out the search term in context to anything you want. You can get multilingual audio feedback (some of the searches take a while). And you can point the file picker to your preferred jumping off spot.
The Start Folder option is a popup because you can populate it with locations on your disk that you frequently want to search. It also has an 'Other' option to select any location, which it will remember and present as an option below the 'Other' option.
The Search String can be a regular expression (as the screenshot shows) or not.
Here's a screenshot of the bottom part of the report so you can see Textcavator's main virtue (in-context quoting):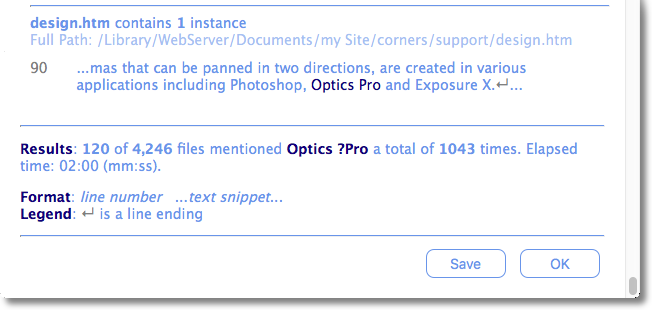 To get the file picker with a default location and a progress bar, the distribution includes CocoaDialog, which you just drop into your main Applications folder.
A full PDF manual is included in the distribution.
Textcavator.10b.zip (1.5 MB)
---

2018-03-31 18:35 GMT-0500