MACRO:   [DATE] Change Creation and/or Modification Date of Selected Finder Item
---
VER: 2.0    2016-09-10 ~~~

2016-09-10 15:24 CT (Sat)
Changes for Ver 2.0
Added support for Yosemite
Added check for non-supported macOS's
Added support for ISO / International Date format
Added support for Folders
Changed Macro Name to indicate support for all Finder Items
DOWNLOAD:
[DATE] Change Creation and-or Modification Date of Selected Finder Item.kmmacros (25 KB)
It is best to delete the old version before importing the new version.
Notice of Attribution
@ccstone (Chris) and Shane Stanley deserve all of the credit for the script this macro uses.
All I did was to add a script handler/wrapper, and embed in this macro.
Many thanks to these guys for a terrific, very useful, script.
---
ReleaseNotes
Author.@JMichaelTX
PURPOSE: Set the Creation and/or Modification Date of Selected File
HOW TO USE:
Select a File in the Finder
Run this macro
TAGS: @Dates, @Finder, @Files, @ASObjC, @ccstone, @ShaneStanley
ACTION COLOR CODES
To facilitate the reading, customizing, and maintenance of this macro,
key Actions are colored as follows:
GREEN -- Key Comments designed to highlight main sections of macro
MAGENTA -- Actions designed to be customized by user
YELLOW -- Primary Actions (usually the main purpose of the macro)
ORANGE -- Actions that permanently destroy Varibles or Clipboards
REQUIRES:
Keyboard Maestro Ver 7.2.1+
mac OS Yosemite (10.10)+
---
By downloading or installing this software, you agree to the terms of usage in the "License and Usage Agreement" at the bottom of this page. Do not install or use if you do not agree.
---
---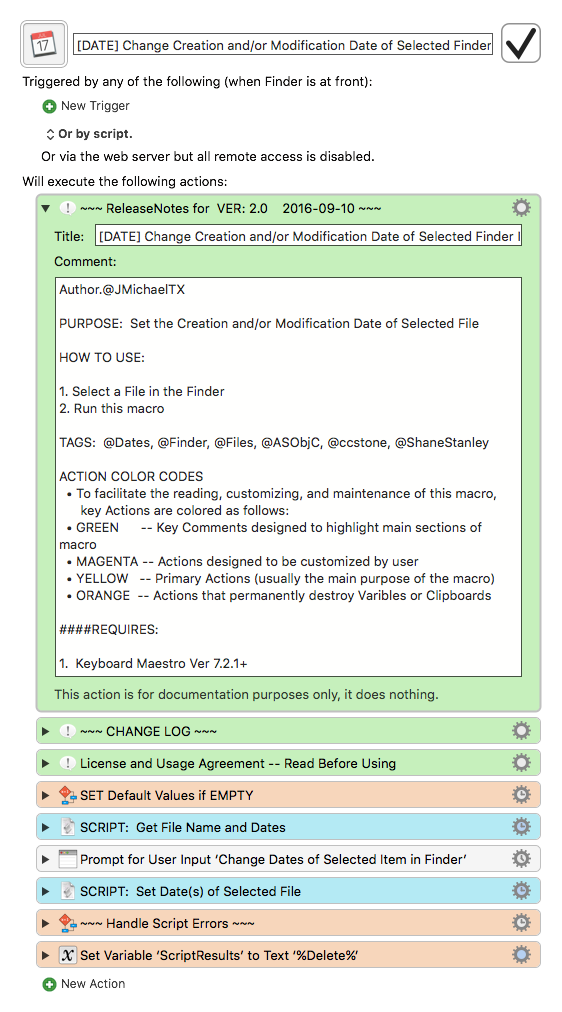 ---
Example Prompt for Input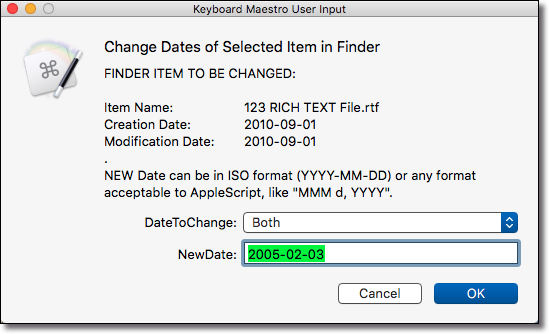 ---
License and Usage Agreement
Copyright (c) 2016, JMichaelTX
By downloading or installing this software, you agree to the following statements.  DO NOT INSTALL OR USE IF YOU DO NOT AGREE.

DEFINITION OF TERMS:

"Software" refers to any and all data and computer software related to this Keyboard Maestro Macro, including, but not limited to: instructions, macros, actions, plugins, scripts, and resources . It includes everything in the download file(s).
PERMISSION:
Permission is hereby granted to anyone to use, copy, and/or modify the software. The software may be redistributed provided that: (1) It is offered free of charge to others; (2) The following are included in and appear in all copies: (a) The above copyright notice; (b) This License in its entirety; and (c) Attribution is given to the original author named in the above ReleaseNotes.
NO WARRANTY:
The software is provided "as is" and the author disclaims all warranties with regard to this software including all implied warranties of merchantability and/or fitness for a particular purpose.
NO INDEMNITY:
In no event shall the author or Copyright holder be liable for any special, direct, indirect, or consequential damages or any damages whatsoever resulting from loss of use, data or profits, whether in an action of contract, negligence or other tortious action, arising out of or in connection with the use or performance of this software.