been only using it for a couple months, best investment ever
AutoHotKey is okay, but the main problem is it doesn't record actions. It was so easy to get started with Keyboard Maestro -- just click 'record', do some actions, click 'stop', make a couple tweaks if necessary, and you are done.
AHK takes a bit of searching and reading to figure out the commands, and so on. AHK is better than nothing, I guess. It's free too. But I'd gladly pay the $36 for a Windows version of Keyboard Maestro. Would you too?
Actually, I did see a few products for Windows that were for pay. Jitbit was one name I remember. Prices were all over the place too. One was $2500 ("WindowsAutomation" maybe), Jitbit was I think $39, IIRC. I searched and searched. Many products died and hadn't had updates for years. Some didn't record. I'm usually happy to pay for stuff, I don't recall why I didn't buy any of them, and built my Windows project in AHK.
Funny you say this. I was telling a co-worker just yesterday that Keyboard Maestro has been the best purchase/investment that I have ever made. Cars, my home, clothing etc. Nothing compares to it. Hell, if a computer doesn't have Keyboard Maestro and my macros on it, I don't even want to use it.
Oh man I'd love to know some of your tricks and/or most used macros. I love me some KBM but I know I'm not making the most of it.
See:
~~~~~~~~~~~~~~~~~~~~~~~~~~~~~~~~~~~~~~~~~~~~~~~~~~~~~~~~~~~~~~~~~~~~
Getting Started with Keyboard Maestro
Read the Quick Start.

This is essential to become familiar with KM terminology

Do the tutorial (Help ➤ Tutorial) in the KM Editor.

Gives you a live walkthrough of creating a macro in the KM Editor

Review/Browse the Available Macro Actions
For Help with an Action in your Macro, click on the gear icon at the top right of the Action, and select "Help"
Search the Keyboard Maestro Wiki for detailed help.
Start small, and grow your macros organically.
Be prepared for some trial and error in the beginning.
Make good use of this Keyboard Maestro Forum
For more help, see Getting Started with Keyboard Maestro and the Forum .
~~~~~~~~~~~~~~~~~~~~~~~~~~~~~~~~~~~~~~~~~~~~~~~~~~~~~~~~~~~~~~~~~~~~
Thank you. I should have specified that I was curious what @kcwhat uses KBM for that it is his best purchase ever. I'm aware of the tips and tricks on this site.
more important than clothes...

Clothes depreciate... Keyboard Maestro gets more powerful. You'll see.
Whoa man... I use plenty. I pretty much have a palette for every application that I use. I say that Keyboard Maestro is the gift that keeps on giving and it's very unique to what you do. It's the strongest and most important application, to me, because a) it grows with you and b) it makes every application, that you use, better. I don't know many other applications that can do that (other than something scriptable or that is out of business) You best and favorite application can be made better by Keyboard Maestro - through the use of automation.
Anyway, I'm not important enough here to hijack a thread but I will show you some of what I do. I have over 1300 Enabled macros and 2000 or so total. Most are small and quick like date macros, text expansions etc.
Here are a few:
Photoshop - I use 2 palettes (One persistent (at the bottom) and one is called by a BetterTouchTool (BTT) - 3 finger click (Yellow).
These Macros trigger KM actions or Photoshop Actions.
Below is one of my Finder Palettes that I spawn using a BTT gesture. As you can see, I can run finder actions, go directly to favorite folders, tag files/folder and run system related events.
Here is another Palette I call System Access. You can figure out what these actions do.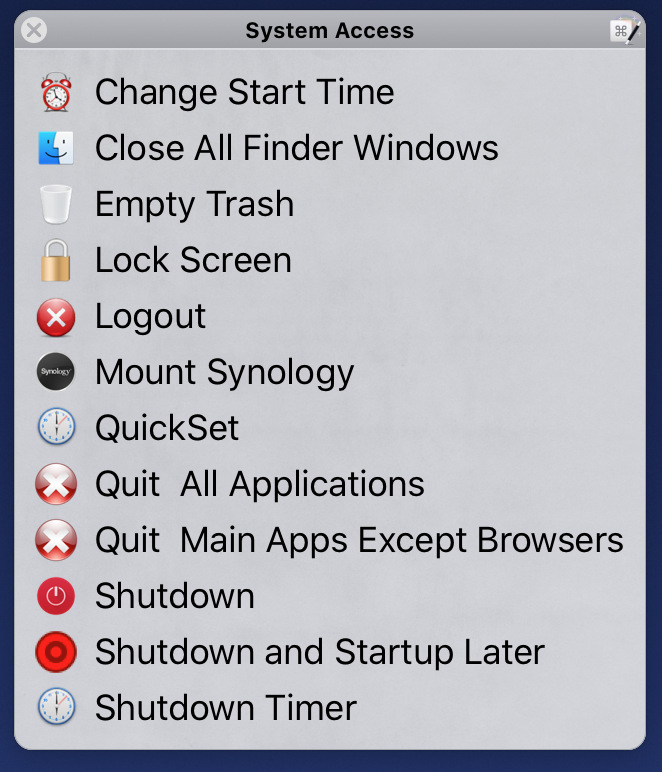 Here are a few more palettes that do things from Facetiming, to automating the Home App to controlling Sirius radio and Screensharing to different macs in my home.
Some other things I do are below:
Open the TV app - It opens my Mac mini Theater library and displays the most recently added movies.

Logs me into my Citrix account for work - Opens Citrix, pulls my password from the Keychain and asks me for my RSA Token. Appends the pin and the token and logs me in.

While in work I have KM create filing macros based on names that I plug into a prompt. It's crazy to automate Keyboard Maestro to create Macros.

KM creates Voice Control Commands from highlighted macros.
I'm pretty much just like everyone else here that has the automation bug. But certain things are simply important to what I do and KM helps me lifehack (I have a full time job, a full time Photography business and a slew of husband/father/son related duties). I'm not the Programming gurus that are present here. They JSON, AppleScript and Perl their way into magnificent creations. I can piece together scripts and make things work but I'm certainly not as skilled. I'm not putting myself down but it is what it is. What I do is ask and research to make KM work for me. But I do my research first.
I hope this helps. Keyboard Maestro may not be limitless but I will most likely never reach 15-20% of what it can do. It is super powerful and I'm so grateful to Peter and JMTX, Dan, appleianer, MTM, ccstone, gglick, TJLuoma, corcules and the whole community here. Stick around and you will learn a ton of possibilities.
If you ever want to do a screen share, I'll be happy to show you other macros. Just message me.
Anyway, enough babbling and excuse any typos.
Have a fun journey!
KC
This is awesome. I may take you up on that screen sharing. You definitely gave me some ideas. It seems you use KM for a lot of what I use Alfred workflows to accomplish but definitely some other uses I'm missing. Thanks for sharing.
wow, terrific post, KC, thank you for the great ideas.
That is a very cool macro!
If you don't mind sharing, would you please upload your macro to the Macro Library section. I'm sure lots of KM users, including me, would find it useful.
JMTX - You have set the example. I don't mind sharing at all. The macro has been upload here.
I'm sure you will make the necessary efficiencies and modifications.
Take care,
KC
Indeed, to me , the Keyboard Maestro is the killer app for Mac. I actually use autoit for Windows before I become a Mac user, and I am surprised how powerful and flexible KM is.
And over the years I have ported some desktop applications to KM, and they work better and easier to iterate as those macros don't require compilation.
One thing that often overlook is the Custom Prompt action which take advantage of web and javascript programming for more imaginative software creation.
Most importantly why KM is such amazing software is the great support by Peter (developer of KM) and the community.
One PC option that I have used for 20 years. Macro Express pro by Insight Software Solutions Web: www.wintools.com Email: info@wintools.com I have invested hundreds of hours and been very satisfied. I remember the cost as $35? If they had s Mac option, I'd have purchased a license.
whoa, nice! I have a Windows lagtop, might try it
EDIT: 600 page PDF manual: https://www.macros.com/download/MacroExpressPro6Help.pdf
I'td be great if sir Peter developed a Windows version, even a barebones version would be great.
@drdaviddoernbach do you have scripts that use Powershell?
Thanks for the suggestion. Macro Express appears to do recording, that's good. Updates only a month ago, that's good.
To jump on the KM praise wagon…
It was an uphill battle getting my employer to take Keyboard Maestro seriously, but after over a year of use in our Production Art department, it is now a central part of our workflow. 6 artists use identical macros to produce personalized jewelry layouts in Adobe Illustrator. The automation has saved thousands of dollars and reduced human error significantly.