#MACRO: Spotlight Search Prompt
###NOTE: Do not double-click the package file "Spotlight Search Prompt Resources.pkg"
It won't hurt anything, but you'll get a very misleading error message. The error message will tell you that the file is corrupted. It's not corrupted. I shouldn't have used a package file to store resources. It doesn't hurt, but it's obviously confusing.
Please just move the package file somewhere, usually in your Documents folder or a subfolder. Then leave it as is. DO NOT DELETE IT.
It's clear that I made a poor decision to store resources in a package file. I'll work something out for future releases.
---
Requires OS/X Yosemite or later.
Please see the Installation Instructions, below
Spotlight Search Prompt.v1.0.zip (862.3 KB)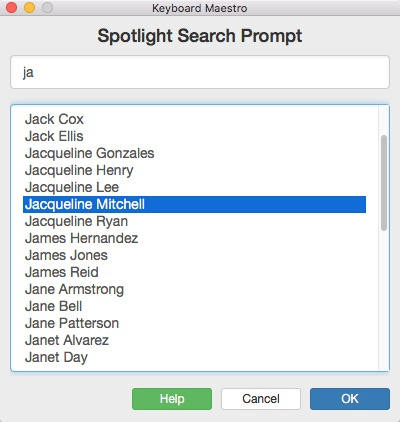 ###Bring a Spotlight to all your pick lists!
Extremely easy to use, but offers a bunch of optional features, as well.
---
##Supports data in three different formats:
Strings: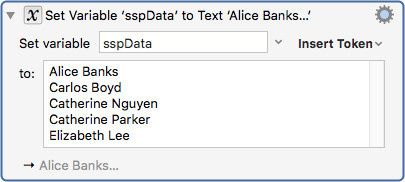 Keys/Values (aka Dictionaries):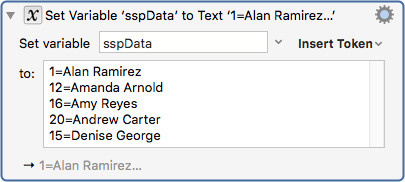 JSON: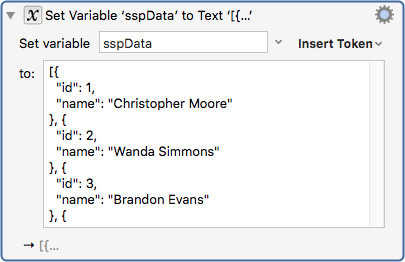 ---
##Searchable Keyword Fields: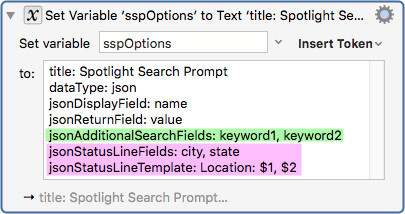 ---
Custom Title, Status Line, Help and Custom Buttons, Custom Window Sizes: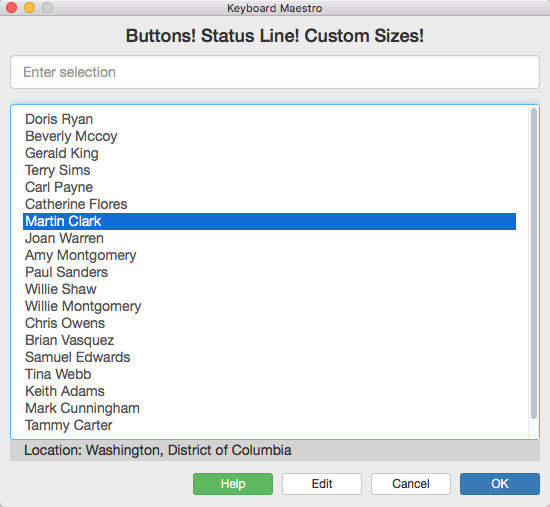 ...and more! (I sound like an Infomercial.)
---
##Includes:
Detailed, annotated documentation.
18 Example Macros and Online Help Macros, from simple to full-featured.
Backed by a Jasmine test suite comprised of over 50 automated tests.
---
##Installation Instructions:
Download the attached .zip file.
Extract the zipped files.
Move the Resources Package file to a location of your choosing.
Import the .kmmacros file.
Run the macro "Spotlight Search Prompt Documentation".
It will ask you to locate the Resources Package file from step

#3

.
That's it! Run through the Example macros, peruse the documentation, and have fun!